Apple's Tablet won't save Big Dumb Media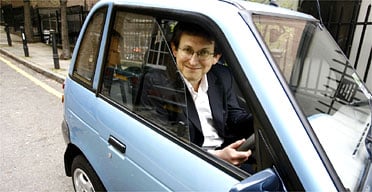 There are many harmless and very entertaining pages on the internet devoted to speculative history, some of which are devoted to Moses' Ark of the Covenant. It was apparently some kind of electrical apparatus. Possibly involving fusion. It performed magic. It transformed the destiny of people who used it wisely.
Now I doubt if you've read anything or seen anything in the last few days about Apple's next computer that is very much more rational. Only most of this output has been written not by UFOlogists, but by grown-ups – professionals in fact, who are paid not to be stupid. It's the most interesting thing about any new Apple device: the childish and idiotic inflated expectations that precede it. But you'll have noticed that even by the standards of idiocy set by Big Media, the professionals have excelled themselves this time with iTablet speculation.
The reason is that they don't just want one to play with, fanbois or gadget fans. This time, they fully expect Apple to save their jobs. That's quite a big difference. (The New York Times let slip that Apple had a new platform for publishers last year.) So the result has been awful. Like holding up a highly-reflective idiot in front of an idiot mirror – the result has been infinite recursion of stupidity, as far as the eye can see.
I was again reminded of childish and idiotic expectations of technology yesterday, reading a lecture by the G-Whiz-driving editor of The Guardian newspaper, Alan Rusbridger.
Rusbridger had come to attack Murdoch's paywall strategy, only he didn't go quite so far as to say they were stupid. He admitted that from a rational business perspective, charging for some content online was the right thing to do – and The Guardian was doing it. But he had to "balance" this by a pledge that he had to make everything open and a free for all, because that was the nature of the technology.
Technology to the rescue
Examine this passage, and marvel at how the technology itself is both a religion and a progressive movement, all in one:
people are expressing themselves, about how societies will choose to organise themselves, about a new democracy of ideas and information, about changing notions of authority, about the releasing of individual creativity, about an ability to hear previously unheard voices; about respecting, including and harnessing the views of others. About resisting the people who want to close down free speech.
The Guardian is a beautiful physical product, but the people in charge don't expect it to be around in a few years. So any editor who defied these online imperatives would be swept away by the tide of history. That isn't rational: it's a faith-based view of the world, with technology as the religion.
Apple, like Google, has become a religion for media people. Jeff Jarvis' book self-consciously asks, after the popular Born Again evangelical bumper sticker, What Would Google Do? It isn't just newspaper people who are expecting Apple to deliver them from a sticky fate. It's people in the music and movie businesses too. They've looked enviously at closed locked-down platforms like the Xbox 360 and PS3, and wondered if something could allow them to flourish, too.
Maybe it wouldn't have to be quite so locked down – or at least, not with the same high ground rent that Sony seeks. But if only they could get valuable subscription revenue from a new 'platform', all would be well. So something will step in and save them.
The Hollow Men
Yet executive in entertainment and news over the past decade have made this much more difficult; the media's crisis is one of its own making. Over ten years, they've hollowed themselves out. Newspapers are now excellent lifestyle magazines, delivered in instalments on a daily basis. Their capability to provide us with something we didn't know, or couldn't find out, or give us new ways of thinking about something, is just not there any more.
Ten years ago you could be sure a broadsheet transport correspondent both knew his field technically and knew the business landscape, while a health correspondent could put the complex into context. I'm not even sure there are any transport correspondents any more, while the other specialists – if they are there – simply reprint press releases from industry, or from the tight-knit hairball of government, academia and pressure groups. A newspaper today is like Google News with the news taken out.
us not to give them our money. They also neglected physical formats and decided to 'compete with free' by giving away the crown jewels for nothing, although perhaps not to the same extent. But we now see Spotify lauded for (apparently) "reducing piracy", when its return is negligible.
For these industries to rescue themselves, they don't need Steve Jobs. They simply need to stop being idiotic. Nobody ever put a gun to a newspaper executive's head and instructed them to ruin their business. Take away the utopian religion and they can start to be rational again.
Now I appreciate there are subtleties here a broad brush can't capture. Every newspaper proprietor wants to drive the competition into the ground. Murdoch uses aggressive pricing. Echoing the US city newspaper monopolies, Rusbridger has already mooted a future where public subsidies fund 'quality journalism'. A translation of that is "we're a commercial basket case, please give us a tax handout". I find it hard to believe that with the nation utterly broke, politicians will look upon this request with sympathy. What I can say with certainty is that they're not going to call it correctly.
Looking back at my own tech predictions, as well as other people's, there's a consistent theme. My worst call in the past ten years, for example, was expecting smartphones to become much bigger and broader than they have. I should have anticipated physical constraints, crappy UIs, and dodgy and late network infrastucture.
But I downplayed all of these in my estimates, because I wanted them to succeed. I thought it would be a good thing if they did succeed. But things don't work like that. Oops. Epic Fail. Similarly, sky high expectations of Linux were powered by the deep desire that Microsoft go away. Linux is very good now, and better than ever – but the expectations were pure wishful thinking.
Because media people think Apple's iTablet will save them, you can safely disregard everything that's been written, or will be written, by large media companies about the launch tomorrow.