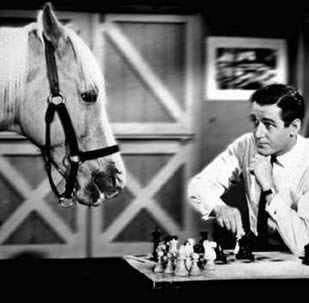 Obama's "regulation czar" Professor Cass Sunstein wants animals to be able to sue.
Animals can't reason or express themselves, naturally, so the litigation would be handled by human lawyers, acting as ventriloquists on behalf of the animal kingdom. Think Mister Ed the talking horse, crossed with Eliot Spitzer.
"Any animals that are entitled to bring suit would be represented by (human) counsel, who would owe guardian-like obligations and make decisions, subject to those obligations, on their clients' behalf," according to Sunstein. The Harvard legal scholar first proposed the argument in 2002.
"This doesn't look good for hunters, ranchers, restaurateurs, biomedical researchers, or ordinary pet owners," says the food industry lobby group The Center for Consumer Freedom, which raised Sunstein's radical "rights" agenda. In Spain, activists have already proposed that apes be granted human rights.