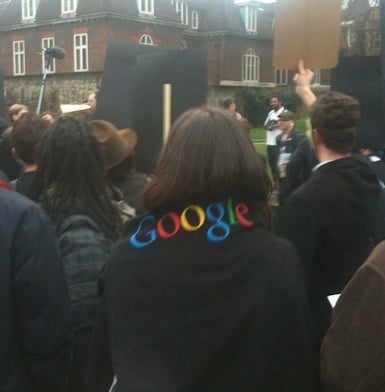 Some words to go with some photos from the Open Rights Group demonstration at Parliament.
Read more at The Register
An answer to the music industry's woes slipped into the IFPI Annual Report last week, but its significance went unnoticed. Before I get to it, though, here's a poser.
"We screw the struggling artist, and pay the suit," Nick Carr mused recently. Carr was examining a contradiction: information has never been less free, it's never had as much as much value attached to it. Once you add up your Sky Sub, mobile broadband bill, and the many other information services, we pay a fortune for information, most of which is entertainment. He continued:
"It's a strange world we live in. We begrudge the folks who actually create the stuff we enjoy reading, listening to, and watching a few pennies for their labour, and yet at the very same time we casually throw hundreds of hard-earned bucks at the saps who run the stupid networks through which the stuff is delivered," he wrote.
elsewhere and you'll find people saying they make a point of principle not to pay for entertainment digitally, because entertainment companies are wicked. The principle is that two wrongs make a right, which makes withholding the payment justified. Maybe even morally superior to paying.
But as Nick points out, we all actually pay a fortune to suits – they're just different suits. They're suits at large telcos, advertising middlemen (eg, BT) and service companies. The answer seems simple.
If you're a copyright business, then to appease the copyright militants, you must pretend that you're not. You must say you're in plumbing, or infrastructure. Or anything, actually. For the world's biggest record company, Vivendi, this will be a case of returning to one's roots. Universal's parent Vivendi began life as Paris's first monopoly water supplier – it only changed its name from CGE and spun off the water and sewage businesses in 2000. And look, we can mention sewage and The X Factor in the same sentence without berating the obvious.
Continue reading "Music biz: get a cluestick from online games"
The following letter was sent from a K12 school account in a southern US state. It illustrates the problems facing both paid legal download services, such as Apple's iTunes Music Store and Napster, and the RIAA's attempt to combat the illegal download services.
We've protected their identity, for reasons which should become obvious.
when will winmx be on again tell me when it does and keep me informed. even if you dont know anything now tell me when its on again
p2p fs is leagal its already bought its in the air how can it be illegal i looked into it and the courts just want money my cousin works at the pentagon i asked him to look into it and says they just want money he used to work in the white house.

the bible dont say thou shall not download its not stealing its in the air
Here's how music business lawyer Ken Hertz, who supports the recording industry withdrawing its co-operation for the iTunes Music Service, describes the problem.
Continue reading "'p2p is leagal its already bought its in the air'"