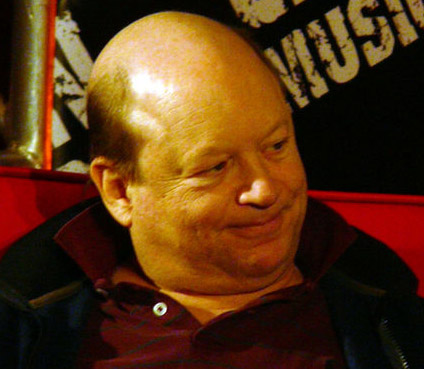 More hysterical shrieking reaches us about Apple's new music feature, I'm afraid.
Earlier this week a lone lawyer said that iTunes Match, which populates an online store with songs you already have, encourages infringement. Well, this one is even nuttier.
It's actually so spectacularly muddle-headed, I thought it might be is a good time to examine what did and didn't happen this week, briefly – so we can see through the hype to the reality.
Bob Lefsetz, the shouty publisher of the eponymous industry newsletter, is normally very critical of record labels – often for the right reasons.
"His intense brilliance captivates readers from Steven Tyler to Rick Nielsen to Bryan Adams to Quincy Jones to EVERYBODY who's in the music business," he says modestly, on his own site.
This week finds Bob barking furiously up the wrong tree. He thinks the labels have sold out the future record industry, in return for a one-off payment of a few dollars from Apple.

Writes Lefsetz:
"For approximately $40 million to the bottom line of each recording company, you know they're not going to share the revenue with artists, the labels sold out their future.

It's like Nintendo being paid a bunch of money to never develop the Wii.

It's like Electronic Arts being paid to never develop mobile games.

It's a denial of the future."
Silly Bob.
Paying for Apple's iCloud doesn't get you any music you don't already have – as we have pointed out a number of times already this week. If you want to hear a song you don't already have access to, you have a number of options. You're going to have to buy it, or rent it via a subscription service, or wait until it comes round on the radio, or find an unlicensed (aka "pirate") copy from the Torrents or Rapidshare, or a blog, or some other unlicensed source.
Or borrow a copy off a mate.
In other words, these are exactly the same choices you had before Monday's iTunes Match service was unveiled. The supply side is unchanged.
All iTunes Match offers us is a universal, multi-directional synchronisation option for our music collections, rather than the bi-directional PC to mobile option common today. Spotify already offers something similar today, but for around six times the subscription fee, you also get access to millions of songs you don't already own. (Which is then sync'd across multiple devices).
Why is Bob not complaining that Spotify is destroying the future of the music industry? Because it would be silly. But that proposition has more merit than positing that nobody will ever buy another song they don't already own. That's the only way Bob's argument can stand up.
I can't quite see why this would happen, or how iTunes Match would cause the greatest, and certainly unprecedented, shift in cultural demand patterns in human history.
Plus ça small change
Rather than selling out the music industry, the labels' decision to license iCloud merely gets them off the hook, prolonging the agony a little longer.
As I argued here, the music business needs to be experimenting furiously, trying all sorts of pricing tests with new services, and giving us new ways of getting to the stuff. These include new kinds of bundles, vouchers, even alternative currencies – all of which reward us paying punters.
If it fails to experiment, and we're stuck with per-song downloads and rental (of music that disappears), then the value of music will continue to diminish, just as an uncultivated garden gets filled with weeds. And that's not fair to the people who create it – who will be obliged to adopt what I call PBBMs: Pity-based Business Models.
Bob has great faith in mobile subscriptions, and castigates the industry for being seduced by the Cloud. But this misunderstands the one tiny technological point of the cloud services worth knowing. (And it is fairly tiny, and offers very little to consumers overall). If multiple-device cloud sync takes off, then mobile will cease to command a premium.
Whether the iTunes Match feature takes off is far from certain, though, and really depends on how many people think the multi-sync it offers is worth paying for, over the bi-sync (or no sync) we use today. Some will undoubtedly find instant value in it. For others, it's a 'so what?' feature.
I can see the appeal of all my music being accessible to all my devices too, but I'm not somebody who needs every song on every device at any time. It strikes me as a bit anally retentive. The deal-breaker for me is that I really don't want my music, much of which was encoded very carefully, chewed up and spat back at me in AAC format. For me, rsync across my home network does just fine. ®