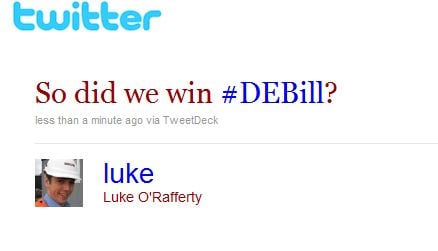 Live TV and internet coverage allowed the nation to feel grubby as the Mandybill was shunted through the House of Commons late last night. The government's replacement for Clause 18 – a catch-all illiberal web-blocking measure that few in the music business ever expected to survive – was approved, and the photographers cemented a spectacular victory by crushing the orphan works clause.
But not before a bit of spirited resistance – or token posturing – take your pick, for it in truth it was a bit of both, to the copyright infringement clauses by Tom Watson, Austin Mitchell, Bill Cash and other backbenchers.

Almost universally the MPs who spoke objected to the bill being rammed through in a sort of procedural speed-dating, at the very death of Parliament. Even stalwart copyright supporters such as John Hemming, a BPI member, and LibDem frontbencher Don Foster condemned the scheduling. Foster said the government's whips could have timetabled a Commons debate three weeks earlier, but had left MPs kicking their heels.
Watson proposed a number of probing amendments – ie ones designed to be withdrawn – before duly withdrawing them all. The first of these, which would have decriminalised online file sharing except for commercial infringers, took almost an hour to debate. While it gave MPs a chance to vent before a sizeable crowd following on Twitter, it exhausted most of the time available.
Foster said that it "was disgraceful a bill of this complexity is given so little time" to be debated, explaining: "That's why so many of us are in such a difficult position. [Watson] has raised important probing amendments."
He regretted the time didn't allow orphan works to be discussed, but then nobody mentioned the ludicrous timetable for radio switchover. Or radio at all. Not once.
The government's promise of a "superaffirmative" procedure in the next Parliament (commencing mid-May) may not have won over any rebels, but perhaps staunched any defections. The procedure means leftover legislation is subject to a further 60 days' scrutiny.
So the Digital Economy Bill was passed by 189 to 47 votes at 11:18pm. The web-blocking provision was the only clause to go to a division, where it was carried 197:40. Clause 43 fell on a voice vote.
Apart from blaming the Labour Party for rotten scheduling, the Conservatives were quiet. Tory spokesman Ed Vaizey mocked the "extraordinary bleating" of the Labour worrywarts, and didn't think much of Watson's amendments, which he said were "scribbled on the back of an envelope at 100 mbits/second."
"It is pathetic for the Labour benches to say that the three hours is nothing to do with them. They are responsible for the lack of scrutiny."
In turn, Watson wasn't impressed with The Honourable Edward Vaizey, and said he could have done some scrutinising of his own.
Watson, who was in no way playing to his Twitter gallery, said he feared the tyranny of the "lickspittle media oligarch who gives instructions from his tax haven". If Twitter was an electorate, Watson would have won by around 3,000 votes to one by this point. Those are the kind of numbers a dictator would be comfortable with.
Watson said he thought a statutory license would solve the problem – a confiscation of private property (from the lickspittle media oligarchs) to be handed over to the People of a Free Freetardia – and said that's how a Labour government had solved the problem of Pirate Radio in the 1960s.
(The analogy doesn't quite scale, obviously.)
Unfortunately, with a few open goals to aim at, many of the backbench objections were about as coherent.
One MP said the trawl would only catch children, the inference being grown-ups don't use Bittorrent. Another MP said the legislation was unenforceable, because people could change their internet providers as easily as they could change an email addresses, and if disconnected they'd just create another Hotmail account to get on the internet instead.
Hemming said that publication of FOIA requested-material that had stamped with the crown copyright could be blocked. This was not in the Amendment the government countered with last week, it must be said, which would permit publication in the public interest.
Foster scored some better points, wondering why on earth web blocking could be applied to sites "likely to infringe", and why an injunction needed to be "indefinite"?
These are terrible amendments, but in their haste to pursue fictional grievances that catch headlines, such as Open Wi-Fi and disconnections, the Open Rights Group is guilty of incredibly naive tactics, and has helped unleash some really dangerous legislation into the wild.
(They could take a leaf out of the Stop43 group's successful campaign. Rather than trying to get their names in the papers as Freedom Fighters, using enviro-scare tactics, the photographers quietly stopped the bad legislation through rational persuasion and did so using fewer resources – and less time.)
Now what?
It's back to the Lords. For a more detailed update see here.
The Mandylaw may not survive the cooler appraisal of 'Superaffirmative' scrutiny in the next session, but Ofcom – which has the task of devising the "technical counter measures" – may get cold feet.
The timetable is for a six-month consultation period over Ofcom's Code. This is likely to stretch to nine months when the EU is included. Then Ofcom implements the code for at least one year, with no further action against users or ISPs. Only a year after that, the throttling can begin.