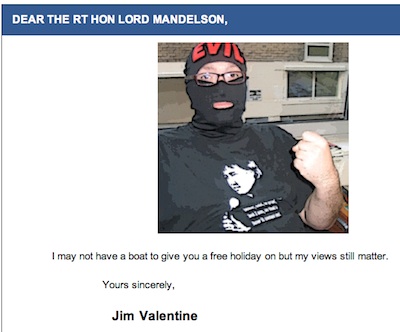 The Mandybill looks set to become law, with its teeth and gold fillings intact.
Conservatives have vowed to oppose three controversial clauses of the Digital Economy Bill in the next 48 hours of legislative horse trading, but will keep the online file sharing portions intact. Photographers have been more persuasive than the anti-copyright lobby: Clause 43, involving collective licensing and orphan works, is one of the three that Tory culture secretary Jeremy Hunt has said must go.
The others are Clause 1 and Clause 29, both of which involve adding expanding the role of uber-quango Ofcom.
Hunt slammed the Bill, calling it "a digital disappointment of colossal proportions". He said the government had ducked the issues of the digital radio switchover and the provision of local news, and failed to clarify the role of the BBC or strengthen independent TV production. The Tories said they may review these issues if the Mandybill becomes law. The piracy measures, while not perfect, reflected the Commons consensus that something needed to be done to deter online copyright infringement and protect jobs.
To the surprise of the music business, it means that the illiberal Section 18, giving Courts powers to block access to sites that exist largely to deliver infringing material, will survive. The section, previously Section 17, was introduced in response to industry concerns about cyberlockers such as Rapidshare.

Introducing the Bill on second reading, the Minister for Culture, Media and Sport Ben Bradshaw said, "The creative industries have grown at twice the rate of the economy as a whole over the past ten years, and they should do so again over the next ten, thus helping to create many of the jobs of the future."
Bradshaw said the 20,000 emails received from anti-copyright campaigners needed to be weighed against the "hundreds of thousands of jobs" in the copyright sector.
Several MPs expressed support for the principles of the Bill, but disquiet about its passage through the Commons without greater scrutiny. John Whittingdale, chair of the Culture Media and Sport Committee, was one of several.
"It cannot be right for us to cut off the whole of Starbucks just because one person went in for a cup of coffee and illegally shared files," he said.
"I hope that the Secretary of State is right and the vast majority of people will mend their ways on receipt of a warning that they are doing something illegal, but I am not wholly confident. In the long term, we will have to look for other solutions," he added.
Austin Mitchell MP said a three month delay was nothing to fear – the creative industries would not collapse in that time. Referring to the ORG's email campaign, he said:
"These people may be nerds, fanatics or zealots for all I know, but they are concerned and worried, and they will not be bullied into accepting the Bill. We have to weigh their voices, listen to what they are saying and discuss their concerns."
Bradshaw teased his frontbench shadow Don Foster, saying Foster had written Section 18, but disowned it.
Foster said LibDems had won important concessions to make the bill more palatable:
"No so-called technical measures, such as bandwidth shaping or temporary account suspension, will be possible unless copyright infringers are notified by letter, without there being any risk of their internet connection being affected for at least a year." He said technical countermeasures should never be necessary and proposed a revised amendment to be considered after the election.
He said site-blocking was too draconian, putting even Google at risk.
"There is no indication that rights holders must take reasonable steps to notify the site owner before seeking an injunction. The proposed injunction would be indefinite, which is inappropriate. Injunctions, it appears, do not cover all service providers, allowing infringing customers to move to different providers," he said.
MPs of both parties challenged leading dissenter Tom Watson MP, who has said copyright law should be scrapped, to agree that piracy cost jobs. "If they do not accept there is a problem, I am not with them," said Foster.
Music business sources have told us for months that they expected that section – whatever shape it finally took – to be horse traded away in the wash-up. The industry focus was on making downloading of unlicensed material have consequences for the user. Copyright holders are not powerless today, but enforcement requires taking an individual to court, an expensive business and with six million people sharing files, a pretty pointless one.
A third reading will give opponents the chance to make last-minute amendments. The Bill merely gives Ofcom the power to take some kind of action – nobody knows if it's three strikes or 50, or what the strikes will be – and the government has promised a 60-day review period when Ofcom finally devises these. The Liberal Democrats are broadly supportive of the file sharing sections but say they'll oppose site-blocking.
Snappers rejoice
The photographers' campaign against orphan works isn't easing up. Today Stop43 campaign published a letter to LibDem Spokesman for Culture, Media and Sport Don Foster restating its position and expressing alarm about the proposed 50-year modification.
Clause 43 was designed to give copyright libraries a chance to archive photographs whose owners can't be traced – but it's become a cost-saver for large publishers, who have been engaged in last minute lobbying for the clause.
Whatever survives from the wash up, the passage of the bill establishes a milestone for online copyright enforcement in the UK. Whether the music business is able to honour its part of the bargain explicitly set out by Lord Mandelson and offer radically new music services remains to be seen. Right now it seems so happy with its new stick, it's forgotten about the carrot.