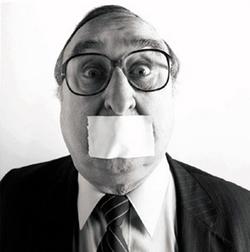 I have a list of some words that really should be banned in polite conversation. The only reason not to ban them is that they're useful indicators, an unambiguous warning that the speakers are going to be a serious waste of our time. The use of any of these words is like wearing a giant invisible that that says: "I have no insight or experience to offer and talking to me represents a huge opportunity cost."
Many of the most enthusiastic users work in consultancy or academia or punditry or new media – the parasitic professions. So what might be on my little list?
One is "meme", obviously.
Another is "business model". Nobody in business ever used the word "business model"; it's the sign of an outsider who has never run a business. But people in consultancy or academia use it profusely. It's like virgins talking about complicated sexual practices.
The word I'll look at today, the first day of the reign of Apple's new full-time CEO Tim Cook, is "disruption".

Apocalypse Now! Or soon
The principal reason intelligent people avoid such words is not just a healthy distrust of jargon, but that these words confuse and obfuscate rather than clarify. If you ask for a definition of "disruption", you'll get five different definitions. Try it. And that's if you're lucky. More likely you'll get five anecdotal examples, which isn't very helpful. As someone remarked after first attending a Net Neutrality Conference, when 80 per cent of the time and energy in a debate go into arguing over what the word means, it is a dead end and the substance will certainly be elsewhere.
The word "disruption" and its dim-witted cousin "disruptive technology" were popularised by Clayton Christensen in The Innovator's Dilemma.
New things challenge old things. Is there any other motivator for scientific enquiry or technological innovation than to do something dramatically better? I suppose there is the orderly accumulation of government grants as motivation, but when it comes to innovation that has never been very useful. I don't think Herr Haber and Herr Bosch were motivated by grants when they made one of the great breakthroughs of the last century – one which may keep such discussions in perspective.
the examples of "disruptive technologies" proffered by the Priests of Disruption, it looks very like a list of "popular technologies you may have heard of and see lying around the house".
Steady State
Consumer electronics technology has been "disruptive" for as long as I can remember. Many apparently new technologies are new only to the average consumer, a result of falling prices. Examples include the integration of tape recording into radios and hi-fi equipment, which meant your average listener could tape the Top 40. The VCR is also such an example. And such technology arrives in wave after wave, each new iteration a little disruption of its own. How many tides does one need to experience before we can describe it as the everyday motion of the sea? Surely by this point it has become a continuous phenomenon – and we should be remarking on the waves' modulation and amplitude rather than marvelling at a single wave's occurrence. Continuous is the very opposite of disruptive – but continuous is a lot less sexy. The management consultant who deals intelligently with continuations doesn't have the dramatic appeal of an End-Times Evangelical, which is really why "disruption" sells so well. It may be the case that obsession about "disruptions", and the time spent obsessively looking for them, may even mean you're looking at the wrong things, ignoring trends that cause real change in markets. Nokia is a good example. The Innovator's Dilemma was mandatory reading there – and a fat lot of good it did them.
Yet the term must stand for something, or it wouldn't have captured any interest, and wilfully pretentious people wouldn't be able to hold forth on "disruption" with confidence.
Which brings us to Apple.
How Apple changed the world
In many places this morning I've read that Apple was uniquely "disruptive", or without Jobs in the hands-on CEO role, it should be fine until the next "wave" of "disruption". Here's what I think they mean.
When new (cough) disruptive technologies in the 1970s and 1980s appeared, we didn't expect Matsushita or Sony to disappear overnight. The language of "disruption" implies that they should be in mortal peril – or at least, like Nokia, the executives must rush out and buy lots of copies of Clayton Christensen's book.
What the Priests are claiming is that today, there is now some unique volatility that wasn't there before, and companies have a unique vulnerability to this. There's a grain of truth to this. But "times change, huh?" isn't very useful.
So what is going on?
Well, one significant difference is that the media and entertainment industries, which traditionally managed technology transitions pretty well, have spent the last 20 years honking in all directions like rabid geese. Thanks to the flexibility of copyright, technology innovation has made rights-holders and creators richer. The content made technology companies richer, too. All was well.
But suddenly confronted with a technology they couldn't understand, and taking the apocalyptic rhetoric of showboating screeds such as Declaration of Independence In Cyberspace at face value, the rights industries forgot all about the historic continuum. And that had huge repercussions. With the media and entertainment industries in disarray, the risk for investors in technology and service sectors increased enormously. They could easily find themselves backing the wrong side.
What Jobs figured out Apple needed to do was recreate the partnership between technology and creative industries, and Apple could make a decent fist of doing so. This wasn't some benevolent Jobsian mission to save Hollywood, but a pragmatic reading of what history was telling him. Hence the iTunes media retail operation, and AirPlay. If Apple hadn't rolled its own music delivery system, the major labels may still be arguing about whether it was wise to launch one. (They were not only obsessed with control, but fearful of the antitrust implications of acting in unison).
This strategy is implicitly recognised by rivals who aren't as good at it. When Nokia CEO Steve Elop talks about platforms and "ecosystems", what he means is that you can't get The Economist app on Symbian, for example, or the neat WFMU app that caches shows, and to shop at Sainsbury's on a Nokia you have to do so through a pokey mobile web browser. He knows that all this adds up: this matters.
Apple was equally happy to embrace something like podcasting, which didn't require so much schmoozing in Los Angeles, if any at all, because podcasts helped enhance the value of Apple's hardware. This is quite simple. But the Priests of Disruption hate simple explanations: there's no money in them, hence the obfuscation.
That, to me, seems why Apple has been so successful. It patched up the holes which traditional media and tech partnerships had failed to in the broadband era. And fortune favours the brave.
The challenge for Apple's new CEO is that he has to juggle two priorities. In addition to the old problems of a Sony – making new gadgets – he has to decide how far into a retail and distribution role Apple should go. Cook and Chairman Steve will have to pick and choose Apple's fights carefully. As an example, the two HD movie delivery systems are going to be UltraViolet and Apple's own (whatever it choose to call it). UV has a wide range of manufacturer support, but AirPlay doesn't, as yet. But how long does Cook decide to fight UV with its own system? Is Apple in the hardware or the media delivery business? Or is it a bit of both.
Now, don't get me started on the word "ecosystem". As you might guess from that piece, that's on the list, too.