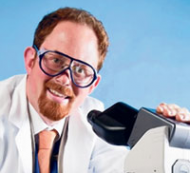 Lib Dems are appealing to the vital online pirate vote at this year's party conference, putting the membership on collision course with LibDem ministers in the coalition government. In a new IT policy paper called "Preparing The Ground", a team of party activists led by Cambridge MP Julian Huppert calls for the Digital Economy Act to be gutted of its copyright measures. It also threatens new legislation to ensure all "traffic flows at the same speed", and wants the IR35 contractor tax suspended.
Senior party figures speaking on condition of anonymity expressed dismay at the proposals. The LibDems are in government for the first time in 70 years, and have attempted to leave behind the Party's old "sandal-wearing" image as a haven for single-issue-fanatics.

Two options are proposed for the Digital Economy Act: removing all the copyright legislation from the DEA, or calling for an additional vote on most of it. The second proposal also calls for the repeal of web-blocking powers, but Ministers say they won't implement them anyway. The Digital Economy Act was passed by 189 votes to 47 last year.
The bearded, bicycling Huppert, a former UN youth organiser, told us he thought copyright legislation that existed prior to the DEA is sufficient for today – and he had never seen an online copyright enforcement measure he liked.
"Nobody has yet suggested one that is workable and proportionate," he said.
That's a pretty hard line, and one sure to bring cheers from hardcore downloaders. In the absence of sticks, Huppert told us he wanted education and better services. "There are already laws," he told us, "people get prosecuted under these existing laws for copyright infringement online."
The activists also call for the return of Clause 43 orphan works legislation, bringing in extended collective licensing for photographs and illustrations where a publisher can't be arsed to ask permission can't find the creator.
One speed for all
Also on the boilerplate list of digital activist grievances is a threat of new controls on network operators (aka "net neutrality"), with the paper insisting that more regulation "is liberal". TV and video users and producers might be dismayed to read that "it is better to provide a level playing field – where traffic flows at the same speed".
Video and gaming packets need to travel considerably faster – with lower latency and jitter – than bog-standard web-pages. Surely this was a typo?
"I can see the argument for some kind of traffic-shaping," Huppert says. "That's already done. That's fundamentally different from stuff from the BBC going at a different bitrate."
But wouldn't that outlaw me paying for a premium movie service over IP? What harm was a private transaction like this doing to anyone?
That was "less" problematic, he said. "There's nothing wrong with paying for a faster connection, or Channel 4 charging for movies, or dealing with an ISP to transmit them faster. What I don't wish to see is Google paying money to an ISP to make Bing run slower."
Huppert said the precedent was charging road users for premium services – fast lanes. "We don't have roads you have to pay for," he told us.
[Actually, we have several.]
But hang on – aren't toll roads pretty common everywhere in the world already? The justification shifted once again: Facebook shouldn't be able to withhold its service from an ISP by demanding money. Maybe they should try it, I suggested, as they wouldn't need to scrape and hoard so much personal information. It almost sounds like an honest business model.
Nevertheless, the paper threatens that "privileging certain types of content or throttling download speeds on certain websites will lead inevitably to regulation". Perhaps this is somewhat optimistic.
negative effect on creative industries, and proposes a new study to produce the answers desired. A move to allow the free public access to "the BBC archive wherever possible" was dropped from the published draft, El Reg understands.
I asked Huppert if the LibDems had done a costing of the suspension of IR35? "We don't have the resources," he said.
"In an ideal system there wouldn't be such loopholes. I can understand why IR35 was invented. But it clearly doesn't work very well, causes a large number of problems, and doesn't collect very much revenue. "
A bit like the 50p tax, then?
Julian laughed.
The LibDems will vote on a Policy Motion (F28) on Monday, 19 September
[link]