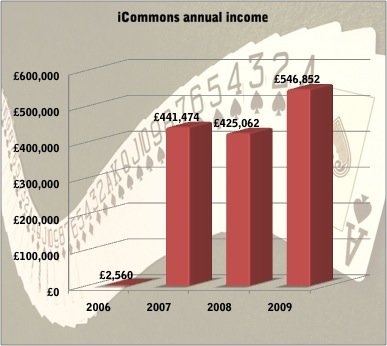 What does an ethics professor do when a self-confessed felon bankrolls his favourite causes? Give the money back? Turn it into a case study for his students? We may soon find out.
The professor is the director of Edmond J Safra Foundation Center for Ethics at Harvard, and he's no ordinary professor. It's Lawrence Lessig, the copyright activist turned crusader for political transparency, and scourge of corporate lobbying. So the extent to which gambling interests have supported two of Lessig's favourite causes may be one of the strangest stories you have never read.
In Fall 2006 the United States passed the Unlawful Internet Gambling Enforcement Act, which made it illegal to take bets from the USA. It effectively put the world's largest gaming market out of reach for online gambling companies. As well as traditional casino operations, the legislation affected the the burgeoning internet poker industry – the fastest-growing sector of internet commerce.
The gaming industry, worth $12bn a year, pushed back hard, and lobby money started to appear in the oddest places. One destination was iCommons, the for-profit offshoot of Lessig's Creative Commons registered in London, which describes itself as "a project-based incubator organization".
Shortly after the gaming legislation was passed, iCommons received three large donations. Two were from newly-formed and secretive offshore trusts, the while the third was from the founder of PartyGaming, Russ DeLeon.

The first of the trusts was called IETSI, the International Electronic Trade and Services Initiative (IETSI) which made a substantial $1m donation to iCommons. IETSI describes itself as promoting e-commerce regulation, operating under Manx regulation, with a website registered in Gibraltar. But who was it a lobbying vehicle for? On its website, in addition to the Lessig vehicles its only other declared affiliation is with the Remote Gambling Association, the voice of online gambling.
The other donation was from the Kasuma Trust, a Gibraltar-based charitable trust devoted to at-risk children, educational work… and internet initiatives. Kasuma was set up by Anurag Dikshit and Soma Pujari in early 2007.
The first of those two names may ring a bell.
Today, Dikshit is one of the richest people in the world, after co-founding PartyGaming plc in 1997, which originally offered roulette and blackjack software written by Dikshit, but switched to poker in 2000. PartyPoker.com quickly became the largest and most lucrative online poker site.
Dikshit was employed by Ruth Parasol, the former 'porn princess' who co-founded internet porn pioneers Internet Entertainment Group with Seth Warshavsky. IEG routinely overbilled its customers, former employees allege. (Its CTO provided an affadvit testifying he was asked to program the billing systems to overcharge.) Today, Parasol is married to PartyGaming boss Russ DeLeon.
In December 2008 Diskhit confessed to being guilty of Wire Act offences, and negotiated a staggering $300m fine to the US authorities. This January, he sold his remaining stake in PartyGaming. The two-year jail sentence theoretically hangs over him.
The million-dollar donation was substantial, effectively giving iCommons financial security for five years. This is confirmed in the regulatory filings of Creative Commons, which declared that iCommons had "secured sufficient independent funding to be spun off as an independent organization".
So the poker industry had been kind to Lessig. What did they get in return?
Enter Charlie Nesson.
Nesson Dorma

Harvard Law professor and academic celebrity Nesson had plucked Lessig from obscurity and helped turn him into an overnight academic superstar in 1997, when with an endowment he set up the Berkman Center for Internet and Society at Harvard Law. Half of Berkman's first-year budget of $5.4m went on procuring and supporting Lessig, WiReD magazine later reported. A kind of techno-utopian think tank, Berkman has become the template for America's burgeoning cyberlaw industry – copied worldwide, and generously funded by consumer electronics and internet companies with their own agendas, such as weakening creators' rights.
(The participants will never put it in quite those terms, for example iCommons filings describe its mission as "promoting practices and tools that encourage liberal permissioning of rights".) When Lessig launched his Creative Commons organisation, he explained it was largely with the help of Berkman.
Nesson suddenly discovered a hitherto unknown interest in poker, which became a very public obsession. Prior to this dramatic 'awakening' in 2007, we can find no blog post where Nesson shows any interest in poker or gambling. But after it, he can talk about little else.
Nesson suddenly discovered a hitherto unknown interest in poker, which became a very public obsession. Prior to this dramatic 'awakening' in 2007, we can find no blog post where Nesson shows any interest in poker or gambling. But after it, he can talk about little else.
In March 2007, Nesson created an organisation called the Global Poker Strategic Thinking Society (GPSTS) to promote the use of poker as a strategic "teaching tool". Nesson also formally joined as a "member" of iCommons. Lessig also spontaneously discovered a hitherto unseen interest in poker – and became one of the founder members of the GPSTS board.
(GPSTS.org and IETSI.org were registered within days of each other, both in Gibraltar.)
According to an announcement, GPSTS was "organized both as a for-profit and a non-profit corporation. Revenue from the for-profit entity is committed to the non-profit GPSTS Foundation to support open education and iCommons."
Nesson swung the weight of Harvard behind the issue, and perhaps for the first time, poker lobbyists began to make their way through the hallowed doors of the institution. "It was an impressive crowd consisting of some prominent lobbyists and lawyers for the gaming industry," recounted one attendee of a Harvard Law School meeting in April 2007, convened by Nesson.
Nesson was also busy locally. He hosted a rally of online gambling supporters outside the state Massachusetts state house and testified against the legislation. He lobbied Governor Deval Patrick.
Nesson and Lessig's GPSTS had engaged with the Weiser Group, a lobbying company (pdf) working for Russ DeLeon.
In January 2008, Nesson even appeared on Stephen Colbert's talk show challenging the Presidential Candidates to a game of poker.
We asked Professor Lessig to disclose fully all his meetings with the gaming lobby. Lessig had made a keynote speech at the GIGSE conference in Montreal in May 2006.
"I met Anurag [Diskhit] exactly once in London at his request to discuss ways he could contribute to supporting a free Internet. I've met Russ two or three times, but have had no contact for sometime."
"Since those contributions, I in fact have promoted no public policies related to online gambling."
Pick-and-Mix
But did the poker lobbyists get their money's worth?
That's a hard question to answer. Although its founder preaches the gospel of transparency – Lessig sits on the boards of Maplight.org and the Sunlight Foundation – the organisation he founded does not practice what it preaches. Creative Commons does not disclose a list of its donors. This makes it hard to tell whether the poker industry still sees Lessig as a financial connection worth maintaining. What is not in dispute is that by 2007 the poker lobby had an energetic champion in Congress – Barney Frank – so deodorising their reputation by hiring star academics was less important.
In 2007 Lessig announced he was giving up his copyright work to focus on "corruption" in the US political process. His inaugural 'Change Congress' lecture harshly criticized academics as acting as "shills" for lobbyists. Ironically, ChangeForCongress has yet to disclose its donors either.
We reminded Professor Lessig of Dikshit's guilty plea for wire fraud, and asked whether he felt iCommons should repay the donations.
This is what he told us:
"IETSI has been convicted of nothing. And as the terms of Mr. Dikshit's plea did not include any request or suggestion that funds he had contributed be returned, the answer to your question is no. Whether iCommons will is something you need to address to iCommons."
Perhaps it's naive to expect academics to uphold the values they preach. Academia is a vast industry in its own right, and the poker money trail is a way of what the commercial world would call "realising synergies".
Even "Ethics Centres" aren't immune.