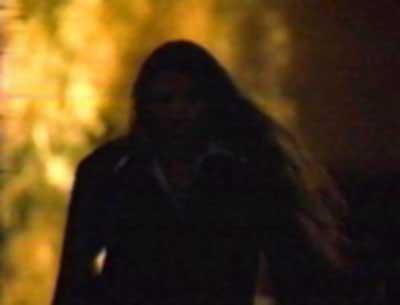 Keyser Sose
If children didn't believe in Santa, thousands of grown men wouldn't dress up in fur-trimmed red jumpsuits, put on false beards, and give children unwanted gifts in tents every year. Perhaps some would, but they'd probably be arrested.
For the past fortnight, TV and newspaper editors in the UK have pushed aside stories of famine and the European financial crisis – which is greater now than the credit crunch three years ago – in favour of saturation coverage of the troubles of a rival media company.
This rival has real troubles, to be sure, which I will not attempt to diminish. But the volume and intensity of coverage is defined by the real size and reach of News Corporation. And this is not reality, but a myth. Just as children want a Santa, so too do editors and Prime Ministers want a "Murdoch" that resembles the omniscient movie villain/myth Keyser Soze. They've defined themselves by this myth.

"Never again should we let a media group get too powerful," PM David Cameron said today, tuning in to the editors' mood music. But like so many politicians before him, and specifically the past two Prime Ministers, he has done everything he could to bolster the Murdoch Myth himself. For most of the past two decades, politicians have tugged their forelocks at the Aussie-born tycoon, increasing his perceived influence with each pull.
Haven't they got the memo about Old Media being dead? Why are they so worried?
When you examine the evidence, it's hard to find evidence to support the Myth. The notion of Murdoch as a kingmaker massively exaggerates News Corp's real influence, and its economic importance. Murdoch has traditionally waited late in the day before backing the likely winner; a kingmaker, a groomer of young talent, he is emphatically not.
But before I go onto that, let's see how the myth was born.
The rise and rise of Rupert Murdoch
Murdoch's mythical power owes a great deal to Labour's failure to win the 1992 General Election, at a time when the UK was in a recession, and one new homeowner in four was in negative equity. The recession was deep and long, unemployment rose for three years. In other words, it was an election in which the incumbent should have been punished by the electorate.
After the defeat, Murdoch's Sun crowed that it was the Sun "Wot Won It".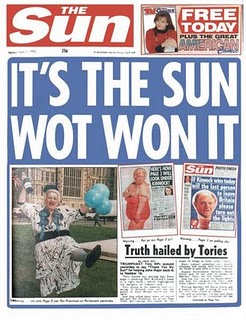 Labour blamed "the Murdoch Press", which was undeniably hostile.
But my recollection is somewhat different. By 1992, Kinnock was despised by the principled Left, and had become increasingly unintelligible to ordinary people over the years. He expected to win, and the "Nuremberg Rally" hardly helped. Have a look at that now on YouTube, and marvel.
1992 was an election a drunken horse should have won if it was wearing a Labour rosette, yet Neil Kinnock managed to lose it. Blaming Murdoch for spreading "false consciousness", allowed the ridiculous Kinnock to escape the blame.
Now, being on decent terms with a media tycoon is fairly sensible: you need access to the readers. Yet Blair, then Brown and Cameron decided to go much further. They bought into the Murdoch Myth and inflated it.
Ah, you say, what about News Corp's dominant reach, and his inexorable money-making machine? The facts don't quite bear this out.
wo years ago, the group lost $5.6bn in 2009, on revenue of just $30bn. Every one of Murdoch's UK newspaper properties lost money, even such long time cash cows such as the Sunday Times and the NoTW.
The Pay-TV operation BSkyB is only now making tidy profits for its shareholders, the largest of which is News Corporation of course, but only on the back of 20 years of massive, bet-the-company borrowing. BSkyB's subscription revenues have grossed £3.9bn in the nine months to March; Google's will be around £2.5bn this year, significantly larger than ITV's. It is not so far behind.
The much-feared Fox News is mostly ignored by Americans: with 5.3 million viewers last year, it is twice as large as the Bloomberg financial channel, and half the size of CNBC. Most of Fox's splenetic stories get no traction in the rest of the US press.
In the UK, the BBC is still the 800lb gorilla, dominating news consumption. Most people, over 70 per cent, get their news from TV. The BBC dominates TV news with 63 per cent reach, and this is where news is most trusted. And according to the University of Leicester, almost all of the increase in current affairs output last year was viewed on the BBC. Its dominance grows.
Leicester researchers also found that news consumption grew fastest amongst the 18-23 and 24-34 age group, largely thanks to the internet. And that's where the Murdoch "empire", after failing to keep pace, has now given up competing for large audiences. The paywalls have gone up, ensuring its reach won't grow. News Corp's audience loss has been the BBC's gain.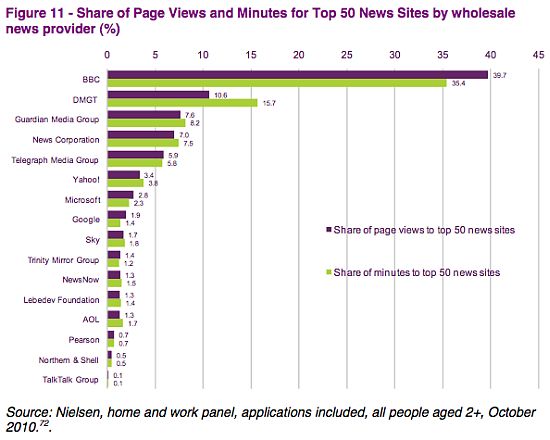 The tinfoil hat argument then turns to cross-ownership. But when Ofcom examined the overlap between popular consumption of Murdoch papers and Sky News, when BSkyB Murdoch swooped for £940m of ITV shares in 2006, it found that barely 15 per cent absorbs both.
And let's not forget that the Competition Commission ordered Murdoch to sell this stake; that Murdoch declined to buy Channel 5, when News Corp could have done so for a quid. Or that it is bureaucrats, not James Murdoch, who ultimately set the wholesale price of the right to broadcast sports events that Sky has acquired on the open market, and the terms under which it must wholesale these rights. Ofcom is now looking into Sky's acquisition of first-run movies. If Sky is a beast, it's a shackled beast.
I'll pause the mass of stats to reiterate the point behind them. There is no reason politicians went beyond a cordial relationship, and had to keep tugging their forelocks. The real Murdoch was under control. Yet the Mythical Murdoch had a life and power of its own, one that existed in their imaginations.
There's a consequence to all this which hasn't been mentioned. Organisations that decided that the Murdoch Empire was "evil" (rather than a savage competitor) began to see themselves as "good".
This has manifested itself in some interesting ways.
Bad Santa
By deciding that Murdoch was both omniscient and wicked, the Current Affairs Department took an approach to reporting certain areas where they're now paying a heavy, possibly fatal price in their credibility.
For years these areas were seen as the obsession of nutters and extremists, and it was assumed they could be safely ignored. I'll mention three in particular, which the BBC regarded as issues to ignore, or on which it must take a strong campaigning stance – or a bit of both: Europe, immigration and the environment. In each of these cases a bit of wry British detachment would have been prudent, it didn't have to take sides, or duck.
The Beeb avoided immigration because of the (genuine) historical racist overtones: however immigration really ceased being a racist issue after May 1 2004, when the largest wave of immigration the UK has ever seen began – and which was almost entirely white.
Now Ed Miliband's guru recognises the damage, and has called for the restriction on the inflow of labour. Europe (and the Euro) were seen as a noble cause, a stance which glossed over the lack of consent, the democratic deficit, and the relegation of Westminster to a compliant Parish Council, as well as the inevitable failure of the Eurozone.
There's no reason an editor should view any of these as "right-wing" issues, but they will now be owned by the political right, because well-meaning editors refused to bring them to us intelligently. The Murdoch Myth – in which editors thought they were fighting a "Good War" against the tycoon – had a large part in that decision. They thought like children, and presumed most of us think like children, too.
It's all so head-bangingly stupid.
Similarly, over the period "Murdoch" became the Bond villain the politicians must curry favour with, politics became increasingly managerial. Instead of proposing bold or imaginative ideas, the political class became obsessed with the media – which was just one more thing to manage.
The Mythical Murdoch has been like Santa: some people need him to exist, to be a metaphysical embodiment of evil, because looking at the world in such simplified terms is comforting and convenient. And this Myth wasn't created by us – we expect media tycoons to be a bit mad. It was created by politicians and the media, and the politicians in particular have spent two decades building it up. ®