Prime Minister David Cameron has cast his gaze east across to Essex – and dreams of a landscape filled with social media marketing consultants and SEO boutiques as far as the eye can see.
In the aftermath of the Olympics, Cameron wants to put the land and property on the Lea Valley to private sector use, and his Big Idea is to "nudge" the Shoreditch and Hoxton crowd eastward.
"Our ambition is to bring together the creativity and energy of Shoreditch and the incredible possibilities of the Olympic park to help make east London one of the world's great technology centres," said Cameron today.
That would be a sight: a mass migration of tiny designer tricycles as the Nathan Barleys pedal across the Hackney Marshes to Essex.

But Cameron is adamant that the Lea Valley will become the new Silicon Valley.
"Right now, Silicon Valley is the leading place in the world for high-tech growth and innovation but there's no reason why it has to be predominant," he said.
You may notice one or two flaws in his logic. Britain has already has a counterpart to Silicon Valley based around Cambridge. This is also a cluster of hi-tech expertise and startups, and like the US equivalent these base their location on a close proximity to high quality science and engineering graduates from a nearby University – in Silicon Valley's case, Stanford. These companies also attract risk-taking capital, the vital ingredient in a technology success story. Innovation adds value, and the recognition of this value means business success.
What Cameron refers to is slightly different. The companies around Hoxton are not technology companies – they're service companies that are parasitic upon private enterprise, and represent a cost of doing business, rather than new businesses or business sectors.
This may seen like snobbery, but it's a fact. It's a very post-modern affliction to confuse the two – creating new technological innovations vs talking about them.
Nevertheless, Cameron has got at least one real Silicon Valley engineering company to pave the way – Cisco – while Facebook has promised to set up an office, and Google has promised a sort of talking shop for academics, wonks… and Nathan Barleys. Which is nice.
(Neither Facebook nor Google do much more than sales in the UK; revenue from the operations is legally diverted to their Irish HQs for tax purposes. Google paid no UK corporation tax in 2009, despite revenues of $1.6bn.).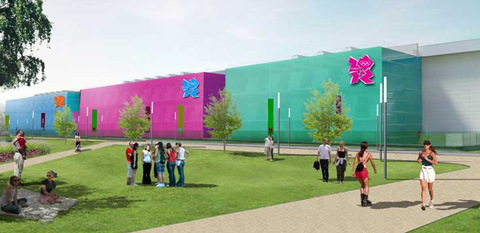 The 2012 Olympics Media Centre
It's laudable to make something of the site after the 2012 games have gone; cities typically lose money on their Olympic investments. The 80,000-seat Olympic stadium will be stripped down to a 25,000 capacity arena, while a media centre costing £300m will most likely be demolished.
Hence the cry has gone out to the Twitterati. Come to our White Elephant.