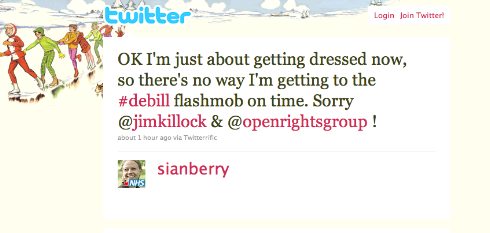 Music House — HQ for a number of the UK music industry's trade groups — was in a lock-down situation this lunchtime as an Open Rights Group Flash Mob descended, protesting against the Digital Economy Bill.
As many as seven protesters could be seen outside the Berners Street offices, according to staff who phoned us from beneath their desks. This is slightly down on the nine who had pledged their support on Facebook.
Twitter was a hive of activity, too. We'd counted two Tweets on the protest in an hour. Photographic evidence below suggests that after an hour, the number had swelled to almost double figures.
In a simultaneous gesture, over at the BPI's HQ, three protesters handed in a "disconnection notice" to chief executive Geoff Taylor, who apparently wasn't in.
Music House, the focus of the main protest, is home to the PRS For Music performing rights society, the Music Publishers Association, the Musicians Union, the Music Managers Forum, the British Academy of Composers Songwriters and Authors, and umbrella trade group UK Music.
The ORG's FlashMob was trailed as a "Stop Disconnection April Fools Flashmob" with the question "Are we being made fools of?"
But with a turnout of less than a dozen, that's a question that answers itself, really.

Last week, a much-trumpeted demo in London at Parliament saw around 100 activists leave their garden sheds — although we spotted many journalists and even music business spies in the huddle.
The point is that numbers don't always matter, though, if the organisers are media savvy. A few protestors can go a long way, if a group's core communication skills are imaginative enough.
Alas, the Open Rights Group seems completely bereft of these. It timed the event for Budget Day, so there was no coverage in the papers the next day. ORG had made 150 blank placards, and taped up their mouths. Passers by were perplexed: they had no idea what it was about.
High concept, low impact.
More fail is due next week: the ORG has raised some cash to run anti-Mandybill adverts — but wants them to go out on Tuesday. That's the date of the announcement of the General Election.
Anyone want to guess the media impact that will have?
Maybe you if you think the Mandybill is rubbish, you should consider lending your weight to someone competent: ISPA, for example. Or you could start your own digital rights campaign.
The ORG can't seem to organise a pissup in a brewery.