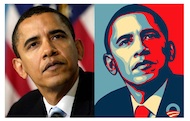 Artist Shepard Fairey is facing a Grand Jury probe for falsifying evidence in a copyright case. Fairey was suing Associated Press over the use of an copyright image Fairey had used as the basis for a popular Obama election poster.
To the dismay of the Boing Boing crowd, Fairey turned out not to be a "copyfighter", but a freetard fraud. Fairey lied about the photograph he'd used, falsely submitting a similar AP photo from the same event, rather than the identical one that truly provided the basis for his derivative works. He maintained the fiction for eight months, before admitting the deception in October.
AP has asked for damages to go to its emergency relief fund.
Other artists have noted Fairey's tendency to plunder the history of radical and revolutionary art for personal profit – he has a clothing line – without adding anything new along the way; Fairey simply scans or traces the original, usually badly.
"Simply reproducing the work of others robs you of your imagination and form-making abilities. You're not developing the muscularity you need to invent your own ideas," designer Milton Glaser wrote in Print magazine.
"It largely ransacks leftist history and imagery while the artist laughs all the way to the bank," wrote artist Mark Vallen in a withering essay entitled Obey Plagiarist Shepard Fairey, that you can read here. " It is machine art that any second-rate art student could produce."
But it's also a case of the biter bit – Fairey uses intellectual property legislation aggressively.
In 2008 year Fairey set his legal team upon a graphic designer Baxter Orr who created a derivative work on Fairey's 'Obey' poster design (originally 'Andre the Giant Has a Posse'), itself a derivative work of course.