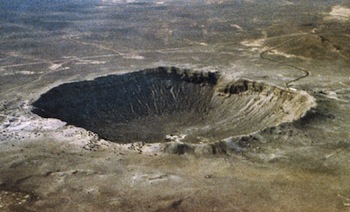 Every day brings fresh gloom for Nokia – and the criticisms are now so familiar I won't elaborate on them. But I was struck by a recent observation likening Nokia's plight now to Apple's in the mid-1990s.
It seems absurd, at first – Nokia is still turning a profit in the billions, while Apple's annual loss was in the billions of dollars. But one thing should focus minds of executives and shareholders for one reason that's never mentioned – the Sudden Extinction Event.
A recent theory suggests that life on Earth is extinguished and starts over every 27 million years. Coincidentally, 27 million years is how long it takes the Dave TV channel to show every repeat of Top Gear without showing the same repeat twice [*].
Businesses suffer Sudden Extinction events too, and we saw one in the past 12 months right in Nokia's backyard: the rebirth and crash of Palm. Some businesses are much more vulnerable to Sudden Extinctions than others, and I'll explain why by using Apple's pre-Jobs quandary to illustrate it.
Nokia's huge asset today is cash. It turns over a lot of cash, and it still makes a tidy profit. The most recent financial year saw a profit of around €9bn gross, with a net profit of €3.3bn for its devices and services division. Maintaining profitability is a decent achievement. Nokia also has around €8.8bn cash in the bank.
Back then Apple was smaller, of course, and it was hit harder. It saw revenues fall from $11bn in 1994 to under $6bn in 1998. Unable to respond to falling demand quickly, Apple lost $1.8bn over two successive financial years. (It took a decade, and the iPod, for Apple to rescale the peak of its 1990s income.)
But Apple had two great advantages.
The replacement cycle for Apple products was much longer than it is for Nokia's products today. It varies in each market and each age group (and on who you ask) but it's around 18 months. Apple's kit back then was replaced every few years – and it didn't help that they were built like tanks.
Much more importantly, Apple had a "network effect". It had lost the IT productivity market to Windows, but in education and particularly in professional content creation, it was the dominant system.
Repro houses took Apple files. The publishing systems were Apple. They were usually tied together using AFP and AppleTalk networks. The workforce of contractors knew Apple products. (I recall how difficult it was to find Photoshop or Quark contractors who knew the shortcuts for the Windows versions in the mid-1990s – the Apple shortcuts were so deeply ingrained.)
And in this market, Apple's computer continued to work. The PowerPC chip was still pretty fresh, and looked to have plenty of life in it. So making the move to Windows would have been costly.
Even for individuals, moving away from the Mac was much more problematic than it is today – valuable data was trapped inside extended attributes (or in Apple parlance, resource forks), that Windows had problem reading. Better to sit tight than move.
Despite its terrific brand, particularly in Asia, Nokia has no such network effect. Customers can choose to switch from a Nokia phone quite painlessly. They copy the address book to a SIM, and off they go. Given a bad experience, customers can stay away a long time.
A recent poll by YouGov showed that only a third of smartphone owners would even consider a Nokia as their next purchase, a drop of 12 per cent in just six months; only 15 per cent would recommend a Nokia, another number falling.
Today, Nokia cites amongst its great advantages its scale and logistics, and in particular its manufacturing assets. But there's no point in having manufacturing if the demand isn't there – the factories become a costly overhead. Without high-margin products of its own, Nokia may as well become a contract manufacturer.
Cash is still King

Opinion is pretty unanimous why Nokia is getting beaten up by analysts and pundits on a daily basis. A little may be American triumphalism, but most of it is sound. Nokia isn't making high margin products, and its lower margin products aren't significantly better than the competition, which gets better every year.
Ten years ago, a low-end Nokia was still much better than a low-end rival – it was easier to use, had better battery life and reception, and often had better build quality. Today, Samsung makes very good 'cheap Nokias', and Apple and RIM have stolen the 'aspirational' bit of the market. With two billion new members of the middle class looking to make a statement, this is quite ominous.
In recent years Nokia has become so used to splashing the cash about that it's rare to find a marketing consultant who doesn't or hasn't worked for the Finnish giant. It single-handedly keeps parts of the economy going – particularly the Strategy Boutique sector – people who dream up segmentation strategies or demographic shorthand. It funds entire branches of academia. But Nokia's cash cushion isn't so great that it can afford that anymore.
For example, this means it can't afford too many splurges like the Navteq acquisition, which will never recoup the mind-boggling €8.1bn investment but has yet to be turned into a differentiator. In under three years, Maps has been Ovi-fied into near-oblivion, and Nokia needs to turn it into an asset that retains existing customers and attracts new ones. Nor can it afford to fail as it did with games, another expensive adventure it embarked upon with N-Gage in 2002 and finally abandoned last year.
With a network effect, Apple could afford to annoy partners and customers as it fought its way back to profitability. It did so again with the move to Mac OS X, before it was ready. Each time Apple gambled that customers could endure a bit of temporary pain. That's not the Finnish way – it still talks in terms of 'eco-systems' and about generating opportunities for partners, who increasingly realise they can seize them without Nokia's help.
Without a network effect, it's not a luxury Nokia can afford. Its responsibility is to shareholders, and it has to be pretty brutal.
Footnote
You can view Steve Jobs case-study keynote at MacWorld in 1997 explaining Apple's recovery strategy here. The segment identifying the market starts at around 18m:30s.