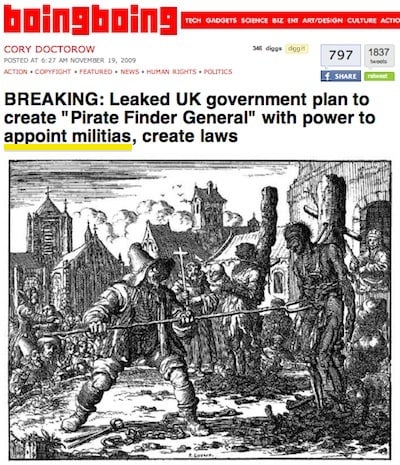 A mob that's filled with self-righteous fury isn't very discriminating.
In 2000 an angry crowd attacked a paediatrician after he was mistakenly named as a paedophile. Last year the Olympic cyclist Chris Hoy was abused by football fans who mistook him for match referee Chris Foy. And last month, a small Scottish farm certification agency, SOPA, received torrents of abuse from 'digital rights' campaigners who were upset about the United States' proposed Stop Online Piracy Act.
Once it's got its blood boiling, the mob needs new targets. Now it's set its sights on ACTA, an international treaty to combat counterfeiting and piracy. Rallies will take place tomorrow. ACTA lost its digital copyright provisions long ago, but the mob hasn't noticed. Many of the claims made for ACTA are completely false.
Even Ars Technica, which fomented the anti-SOPA campaign, has felt obliged to correct the anti-ACTA myths that are circulating on social media. The website recently lamented that the internet is "awash in inaccurate anti-SOPA", busting the myths of the anti-ACTA crusaders.
ISPs are not obliged to monitor traffic, Ars points out. ACTA contains no web-blocking provisions or graduated response regime. It won't block generic drugs.
In fact, as I pointed out at the time, ACTA is a non-binding agreement that doesn't, in any case, apply to countries such as the UK, which have their own IP enforcement initiatives. The passage of the Digital Economy Act in 2010 made the entire discussion moot.
I recently asked the Dark Side what they hoped to get from ACTA.
"Nothing. The trademark and counterfeiting people really need it. There's nothing in it for us, or for any copyright holders," one entertainment industry lawyer told me.
Continue reading "The angry internet runs on Pseudo Masochism™"