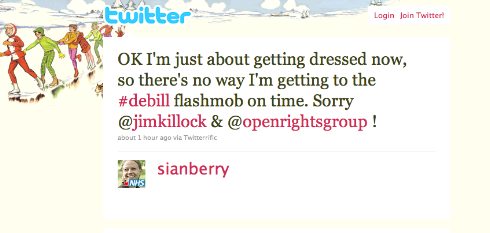 Music House — HQ for a number of the UK music industry's trade groups — was in a lock-down situation this lunchtime as an Open Rights Group Flash Mob descended, protesting against the Digital Economy Bill.
As many as seven protesters could be seen outside the Berners Street offices, according to staff who phoned us from beneath their desks. This is slightly down on the nine who had pledged their support on Facebook.
Twitter was a hive of activity, too. We'd counted two Tweets on the protest in an hour. Photographic evidence below suggests that after an hour, the number had swelled to almost double figures.
In a simultaneous gesture, over at the BPI's HQ, three protesters handed in a "disconnection notice" to chief executive Geoff Taylor, who apparently wasn't in.
Music House, the focus of the main protest, is home to the PRS For Music performing rights society, the Music Publishers Association, the Musicians Union, the Music Managers Forum, the British Academy of Composers Songwriters and Authors, and umbrella trade group UK Music.
The ORG's FlashMob was trailed as a "Stop Disconnection April Fools Flashmob" with the question "Are we being made fools of?"
But with a turnout of less than a dozen, that's a question that answers itself, really.
Continue reading "Open Rights Group musters Flash Mob… of 7"