Never let the facts, or taste, get in the way of a marketing campaign, we say.
TalkTalk boldly promised today to fight disconnection requests in court, at least until after the election. Carphone Warehouse strategy director Andrew Heaney made the pledge on his blog.
The fact that ISPs don't get any disconnection requests, and if they did, they would (rightly) throw them in the bin along with other junk mail, isn't mentioned. Such a request would currently have the legal validity of a request to paint your house pink, scribbled on a fag packet and thrown from a passing car.
Heaney's pledge is only good until "after the Election". If account suspensions are eventually approved, it won't be for a long time.
Maybe Heaney thinks we're all extremely stupid. Or maybe he's just found his audience.
"I'm impressed. Well done," comments Stef Lewandowski, a marketing guru who has advised quango Nesta and the Department of Culture Media and Sport, and is a Cultural Leadership Fellow at the Arts Council-sponsored Clore programme, studying "Accelerated Serendipity".

"Seven Years of Donations Fighting, Brothers…"
Meanwhile Open Rights Group's Maximum Leader, Comrade Jim Killock, was crowing about the success of the appeals drive, launched to capitalise on the ORG's spectacular success (are you sure? – Ed) with the Digital Economy Bill.
The ORG's entire front page was replaced with a "Fuck You" graphic, soliciting donations. This prompted dismay from supporters, according to emails that fell into our inbox.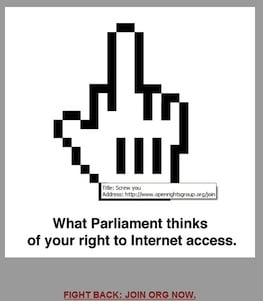 "Someone – please – say that the ORG server has been hacked by some script kiddies," wrote one supporter. "Oh, for heavens sake are we in the school playground? Who are we trying to attract?" asked another. "Yes, we lost a round – there's no reason to become petulant and offensive."
Killock eventually obliged, but then noticed something:
"Hum guys, since we took the graphic down, nobody's joined up (from 16.50 till now) – that's cost us about £2000* assuming they're not joining because we're not pushing them as strongly"
So he put it back up again.
Comrade Jim explained that five people an hour were joining while the front page had displayed the middle finger – which indicates what an impressive mass movement the music industry is up against. That's almost enough for an ORG Flash Mob. The average pledge was £60, which Jim multiplied over seven years.
(Obviously he expects the 'copyfight' to go on… and on… and on.)
"I'm very understanding of the issues people have raised, but a strong reaction – one that will offend some people while making other people agree violently – is required to make people part with their cash."
That's the spirit, Jim.