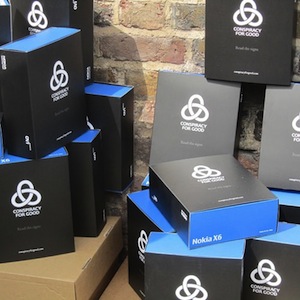 The audience are the actors in writer Tim Kring's latest adventure. In his famous creation, the TV show Heroes, people discover they have superhero powers, and go off and battle Evil. In his latest, people go and battle Evil, and discover they have been given Nokia smartphones.
The ambitious, Nokia-sponsored interactive extravaganza began this weekend, and it's an interesting experiment. In Kring's own words, this series of events, called Conspiracy For Good, is "not quite a drama, not quite a flashmob, not quite an ARG [alternate reality game]".
What is it, then, and how did it come about?
Kring says that the underlying message of Heroes was one of "hope and interactivity and global consciousness and saving the world", and when Nokia approached him to do some content for Ovi, he pitched the idea of anti-capitalism activists shaming a wicked corporation by using Swampy-style hacktivist tactics. You can be Swampy, if you wish to be. I have no idea if you get to keep the phone, but Nokia is donating towards a real library in Zambia and giving away 50 scholarships if the bad guys lose. So there's very little prospect of the bad guys not losing.
It was the love-child of Nokia's VP Tero Ojanperä. So for four weeks you can find clues hidden online and in the real world. You'll encounter reality actors or "reactors" – some in character as Swampies, some as evil corporate suits – to guide you. And you'll be using a Nokia phone.
Kring calls it "social benefit storytelling". But you can see another reason why it appealed to a technology company – because Kring endorses the modern idea of "engagement".
"Shows like Lost and Heroes did force you to go on line and look for clues – they were sort of a bridge to this. Each tentacle carries one little piece of the story and you have to put the pieces together," he told us. "It's not the same as letting it wash over you – you're forced to participate, and guess, and predict."
Which audiences have always had to do before – with Miss Marple, or Twin Peaks. But because the interactivity is now electronic, tech companies are very interested. In this version of 'engagement', the concept of the Mind places it as a kind of communally-shared external cyber-appendage, a bit like the Ood's Hive Mind in Dr Who.
So how would it work, I wondered. People will shame the fictional corporation into… what, exactly?
Kring explains:
"We have this contract that proves they illegally obtained this land, and they're a very tricky corporation. and in a very guerrilla kind of way we expose them. Busted exactly. But there's a lot of stuff to find out before we bring them down."
There's no doubt who's Good and Bad here. Isn't what makes great drama the moral ambiguity – forcing the audience to decide who to root for? When people are forced down one path some rebel, while for others it becomes an exercise in reinforcement.
Kring politely disagrees.
"I may not completely share your view, I believe in archetypal and mythical storytelling and what's missing from the world. We used to know what's right or wrong, by the myths we heard around the campfire. Those are now missing in our culture and have been replaced by consumerism.
"We really wanted the secret society to be really cool. We force the audience to choose which is the right path; by giving them a moral fork in the road.
"People are starved for archetypal stories, where there is good and evil and people are given a choice."
It just didn't seem like much of a choice – particularly if you were being guilt-tripped. 50 people in the real world would lose out on scholarships if the Bad Guys won. Kring didn't think so. On Heroes, he explained, some people started supporting the bad guys.
"If some people want to become part of [evil corporation] Blackwell Briggs, that's fabulous! On Heroes people started a Syler's army where they identified with [evil megalomaniac] Syler.
"Ultimately if you align yourself with Blackwell Briggs you have been on the wrong side of the narrative…"
Surely you'll burn in hell for supporting Blackwell Briggs?
"Hah, yes."
I thought these questions probably arose because a decision was made to put this into a political context. There's no problem with killing a zombie or a cannibal, or even an alienate determined to wipe out the human race. Did he need to give such an explicit and simple political view?
"We try not to be political", says Kring. "We tried to create someone who's the face of persecution, corporate greed, and injustice."
But the world really isn't so simple. The idea that business is all bad and philanthropy good is one that quite a few recipients of charity might see as a bit patronising. Grinding third-world poverty isn't much fun no matter how many books you've got – and yet economic development gives us incubators and… Nokia phones.
"I'm not sure I follow."
For Kring this problem was solved by making the bad guy so bad any such ambiguity might be banished.
"Well, Blackwell Briggs is trying to trade on human capital to exploit resources. They're involved in child labour and … we're trying to exaggerate it and make it so broad no one can have any doubt. Cutting the heads of babies, that sort of thing."
Was the choice of name for the bad guy a coincidence, then?
"The name was meant to conjure up Black Hats, good guys wear White. Any resemblance is just a coincidence."
So Xe (formerly Blackwater) haven't sued you?
"Not yet," he says.