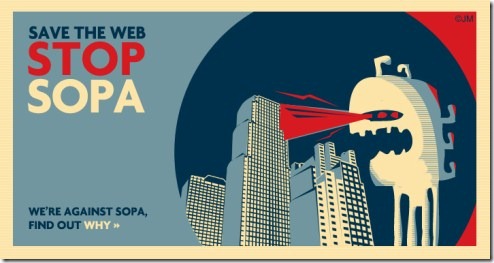 I am going to propose something that may sound radical, but really isn't. Legislation like SOPA ideally isn't necessary in an ideal world, and this idea comes about through voluntary agreement. The Stop Online Piracy Act was proposed because of a tragic impasse, a lack of agreement between two powerful and deeply entrenched sides. Although one side has moral force on its side, being 'right' doesn't mean it's going to 'win'. Like a classic game theory tragedy, both sides are losing.
To understand why I shall tell you a story. If management sages and internet gurus annoy you – it's a story you might enjoy.
When he died in 1903, the prolific Victorian journalist and author Herbert Spencer was thought to be one of the cleverest people in the land, and England's greatest philosopher. Such was his reputation, there was a clamour to bury him in Westminster Abbey. But in reality, Spencer was a hard-working clot, whose reputation fell more sharply and quickly than that of a disgraced fraudster.
Spencer knew all the right buzzwords, but was loathe to read past the first chapter of a book. Spencer even carried ear-plugs in case he was exposed to interesting new ideas, as he feared intellectual stimulation might keep him awake; he often inserted the ear-plugs midway through a conversation. He masked all this, and his books were phenomenally popular, because he stuck to opaque but calming generalisations. Rather than resolve a matter, his generalisations allowed him to waffle around it. (He also heaped on masses of detail to sidetrack the reader). When the novelist George Eliot complimented the old man on the lack of wrinkles on his forehead, Spencer replied that he'd never encountered anything that ever puzzled him.
Spencer may have been the Victorian Malcolm Gladwell, or Tom Peters, or Tim O'Reilly. Generalisations are a great way of avoiding looking at what's really going on, and tackling a subject with arguments from first principles. Social media has turned this kind of showy avoidance of reality into a massive multiplayer game. Twitter is an ocean in which armies of cliches swim pass each other. You can even badge your avatar to remove any doubts in the audience about nuances in your position: 'STOP SOPA' being the most recent. SOPA has indeed been stopped, or fatally gutted.
While the legislation is now moribund, the underlying concerns behind SOPA haven't gone away. No amount of bloviating is going to resolve this. The main provision of SOPA (and PIPA) is website-blocking, which has no friends here at El Reg. But SOPA will return next year, and the year after, until the issues have been tackled head on. The STOP SOPA stickers will return. It's all avoidable and getting quite tedious.
The internet has a problem
In the Panglossian worldview of Silicon Valley, everything is perfect on the internet, it's the best of all possible worlds, and any tinkering with this robs humanity of its last Utopian hope. This is a view of the world that actually owes much to religion, or the desire to recreate the certainty of religion. It's faith-based, and isn't a view grounded in reality, especially the reality of doing business. On the internet, fame may arrive quickly, but financial reward doesn't follow. It's the only area of business where this is true.
Now this is quite different to the argument that life must be fair: we know it isn't. We don't expect the bestselling fiction book to be the most subtle or sophisticated, or the No 1 record to be the greatest work of art (although many have been great works of art). You do need expertise to turn talent to popularity – but that's a different argument. Nor does money guarantee success, and therefore security; that again is another argument. Financially successful businesses are quite entitled to drive themselves into the ground, and many do. The simple reality remains that in all fields of commerce – with the vital exception of one – money follows popularity.
The SOPA supporters' argument is that this is entirely down to theft. Before we get down to it, let's look at the specific core proposal. SOPA and PIPA have other measures, and some are important and hardly controversial. But SOPA was really written for one tactical purpose.
The hypocrisy of web-blocking
The meat of SOPA was concerned with blocking rogue foreign sites – such as The Pirate Bay – from being accessed by Americans. Site-blocking is regarded as illiberal and unloved, and may ultimately have been totally unnecessary, as we shall see. A block list, according to SOPA critics, put the United States on a par with regimes such as China, which prevent their citizens from reaching the internet. It's certainly hard for US diplomats or policy-makers to take the moral high ground when preventing their citizens from merely seeing a website that is unlikely, on its own, to corrupt or deprave. Merely looking at The Pirate Bay shouldn't be a crime. This was a strategic error by the IP industries: you may punish people for their actions, not their possible actions.
Yet the hysterical case made against SOPA was quite often dubious. SOPA was solely concerned with rogue sites beyond US jurisdiction, and so could not "make YouTube disappear", as angry anti-SOPA bloggers wanted us to think. And the 'censorship' argument needs the cold blast of reality to give it some context.
Remember that Google itself is a web censor on a quite significant scale, and in an arbitrary way. Last year, Google made 11 million sites disappear on a whim, removing the .co.cc domains from its search index because the sites were deemed by Google to be "spammy". Many were, but were all of them? We shall never know, and really, it's beside the point: a single powerful corporation was making a subjective value judgement call to make a large chunk of the internet vanish. In this case Google was judge, jury and executioner, and the process had no 'transparency', another favourite buzzword of the critics. And this single corporation is a vertically-integrated operator of enormous social consequence. It holds monopolies on search and pricing; it creates de facto technical protocols; its decisions decide which small businesses survive or perish.

So this looks less like a row about censorship, but about who gets to do the censoring – and Google would dearly love to be in sole control. Bear that in mind the next time Google says it wants to keep the internet open.
As we know, Google benefits greatly from anti-social behaviour. In both the short-term and and long-term it has a strategic interest in not dealing with piracy. In the short-term, Google nets millions of dollars from its ad networks from pirate traffic. And long-term, rogue sites diminish the likelihood of a legitimate market of creators and consumers. So at some point in the future, having destroyed the legitimate institutions because they can't make money, Google may slip into the role of the world's de facto royalty collecting society – and creators will have nowhere else to go but Google. Meet the New Boss: he might not look like the Old Boss, but at least you got paid sometimes.
We're nothing but our creativity
The deeper battle is a the historic one, about how much social and corporate responsibility new internet companies are obliged to take on board. The DMCA legislation of October 1998, correctly, let them off the hook for anything. This was done in the hope that new markets would be created without the constraints imposed by backward-looking copyright industries.
But now, after 15 years, things seem quite curious. It's the web giants that are backward-looking, and who fight hardest against the creation of markets. (They'd much prefer to be personal data miners, rather than allow free commerce to flourish.) Silicon Valley has done very well wrapping angle brackets and pastel colour graphics around 30-year-old internet protocols and calling them innovation. IRC becomes Twitter, for example. As former vulture Ashlee Vance writes (a must-read), Valley's Web innovation may not leave very much for our grandchildren – and is acquiring all the vanity of Hollywood.
Web companies may have thoroughly outgunned property rights owners in terms of light and noise generated online fighting SOPA, but that's because the professional industry lobby groups focus like lasers on the lawmakers. And here, with the rise of China, the deeper argument is being won.
China today mirrors the dynamic growth of the United States 100 years ago, and has the same buccaneering disrespect for other people's stuff. Which leaves the question of how to compete. The West doesn't do manufacturing any more, so the 'intangible' or 'invisible' inventions are much more important. The West can't afford not to protect its inventors and creators: if it can't, there's nothing to build the service economy of the future upon, and life becomes a diminishing series of asset bubbles. This is simple, brutal economics, and Utopian waffle about internet freedoms do not cut much muster – at least not on a planet where unicorns don't have the vote, and the emerging Eastern economies are delighted to take what they can.
And the specific problem SOPA was designed to address – exquisitely demonstrated here by this independent film-maker at Pop Up Pirates – is very much a live one. Rights-owners argue that it's because their property rights aren't enforceable. For years we could argue that 'harm' took place because of the absent of cheap, decently-priced legitimate services. But with cheap streaming services coming online, that's hard to argue now.
So there's a problem, and we don't like web-blocking legislation as a 'solution'. Fair enough.
Wrinkle avoidance strategies
For years, copyright industries avoided old-age wrinkles by using enforcement to retain control – working against the grain of technology, rather than with it. Copyright industries are not natural enforcers, when they try it, they're quite spectacularly clumsy. Take your pick from from an unsavoury list over the years that includes remote kill-switches for media, or creating and distributing millions of spoofed music files containing noise, or plans to insert spyware onto your PC that locks your computer or deletes your music. All pretty dumb. More recently, they've started to work with the implications of digital networks: with UltraViolet you buy a license, rather than repeatedly purchasing limited rights over and over again. That's a step forward.
And it's the sort of progressive thinking conspicuous by its absense in Silicon Valley, and its armies of 'copyfighters'. They love the war too much for it to end. And to keep fighting, you must avoid thinking about constructive, mutual agreements. That might cause wrinkles. Spencer's ear plugs are firmly in place.
Well, to return to where we started, legislation is quite unnecessary. That is, if ISPs abided by a clear and open voluntary code to respect creators' rights, which required booting out the few serial offenders; if ad networks refused to support parasitic foreign companies; and if search engines shared revenue with media companies to whence they drove traffic, we wouldn't need new laws. This is not a fantasy – it's going to happen in the UK, remember. The UK has website-blocking legislation on the statute book, but Culture Minister Ed Vaizey wants a voluntary agreement – a most liberal solution – instead. Alas ISPs, service providers and search engines today see only risk in being socially responsible, not an opportunity.
As Friday's exasperated joint White House statement points out, the copyright worries are justified, and entitled to some kind of enforcement – they won't go away. A property owner must be able to enforce their property rights, with legal backup, and the effective sort, or the rights become meaningless. They shouldn't be able to do so easily or cheaply, lest this becomes a substitute for innovation, for finding talent and marketing it effectively.
"Don't limit your opinion to what's the wrong thing to do, ask yourself what's right," the Three Czars demand.
However, Silicon Valley's problem – and one activists have – is that they've never thought about it like this. They've never seen a voluntary copyright enforcement backstop they liked: they were all problematic. Campaigners instinctively oppose everything – leading to ever more bonkers legislation.
Like Spencer, Silicon Valley doesn't seem to want worry about it, it doesn't want too many wrinkles in old age. This is why I call SOPA "what goes around, comes around" legislation. It isn't nice, and it isn't necessary, but we're all here because Silicon Valley's web companies refuse to grow up. The White House just told them they should. ®